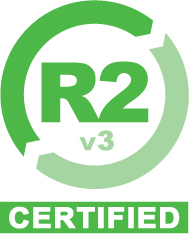 Summit 360 joins a global, select group as an early adopter of the R2v3 certification program: the comprehensive, voluntary industry standard for used IT hardware recyclers and resellers, managed by Sustainable Electronics Recycling International (SERI). The R2v3 certification requirements enhance all dimensions of ITAD operations, including downstream recycling chains, data sanitization, hardware testing and repair, materials recovery, and even brokering.
A Safe Process for Disposing of Your Business's Used IT Equipment and Maximizing the ROI
At Summit 360, our electronic recycling and ITAD process is focused on the security of your data. Our auditing and data sanitization methods are industry-leading, as is our ability to provide tracking and reporting throughout the process. We'll audit and test all of your network equipment. Then, we'll resell what we can, returning money to your budgets, and destroy and recycle what can't be resold. The result? Your data is protected, environmental compliance is ensured, and your bottom line is rewarded.
Tell Us About Your IT Equipment