If you're responsible for the acquisition, management, and disposition of networking equipment, you've had an – how shall we say this – eventful past few years.
First was a global pandemic and the IT scramble for business continuity. Then came a worldwide chip shortage followed by supply chain disruptions. Now there's economic uncertainty and a need to watch the bottom line even closer. And underlying it all is the non-negotiable requirement to protect your company's reputation and data.
There's a little-known and easy-to-execute strategy that addresses all of these challenges and requires minimal effort on your part. It's called a Buyback Program, and you can use it to get paid for your surplus IT equipment.
How do companies end up with surplus IT equipment?
It's pretty common for mid-sized and enterprise-level companies to end up with more switches, servers, routers, or other IT gear than they need. Here are some of the most common reasons customers ask for our help:
End of life or obsolescence

– most companies get between 3-5 years from a piece of hardware. As you naturally cycle through equipment, you'll have a steady stream of gear reaching its end of life or point of obsolescence for your business.

Site closures or changes to real estate portfolio

– if you've made significant real estate changes (like closing a data center, consolidating facilities, or moving locations), you can end up with surplus equipment.
Changes to working arrangements

– many of our customers are adjusting their equipment levels in response to today's work-from-anywhere world. As a result, they have more gear than they need. 
Staffing changes

– seasonal staffing fluctuations or staff reductions can mean fewer employees to support. When companies have no other immediate use for the assets, they can quickly become out-of-date or obsolete (see above).

Mergers & acquisitions

– if you've recently merged with or been acquired by another company, you may find after combining operations that you have excess IT equipment.
Why does surplus equipment hold value?
Most companies have surplus hardware gathering dust in a closet or storage room. As this hardware accumulates, you face two big challenges:
The equipment's price is sitting on the books as part of your cost structure, but you're not getting any value from it.

Data-carrying assets that sit idle can become a data security risk – especially if they're not secured in a restricted access facility.
The current supply chain delays mean that certain pieces of IT equipment are in high demand right now. As a result, more companies are in the alternative marketplace and buying refurbished gear from resellers like Summit 360.
If you have used equipment, spare switches, servers, routers, laptops or other networking gear, Summit 360 will offer you a competitive price through our Buyback Program.
How does an IT equipment buyback program work?
Before we get into our step-by-step process, let's talk about the numbers. After 30 years in the business, we're dialed into the used equipment marketplace and are experts in pricing, supply, and demand. We can pay top dollar for your used equipment because we know its fair market value. Here's how our process works.
Step #1: Tell us about your equipment
When we say we handle all the details for you, we mean it. All you need to do is tell us the equipment you have. We'll put together an offer and send it to you.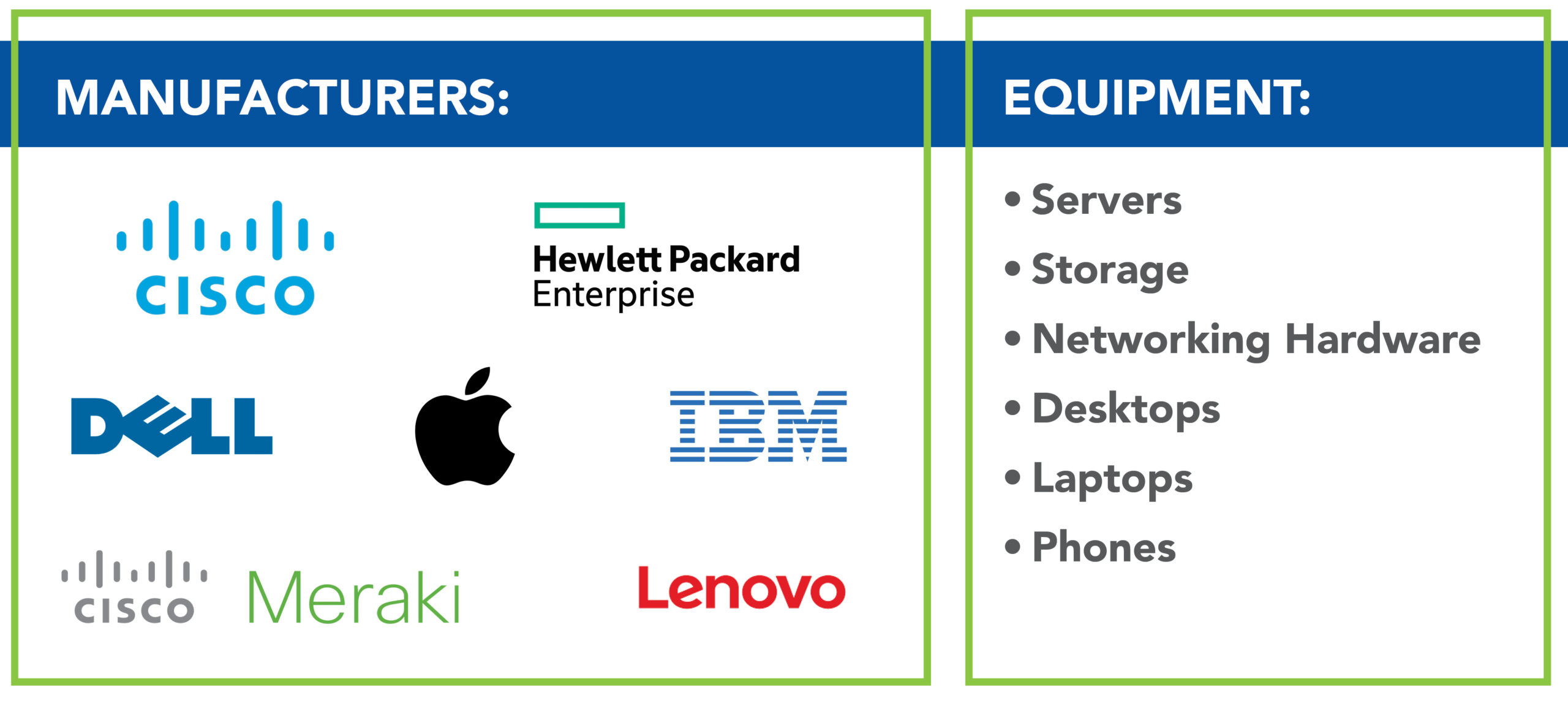 Step #2: Take advantage of our paid equipment transport  
You won't pay a cent for shipping if you want to sell a few pieces of equipment or an entire data center's worth. We pay 100% of equipment transport cost:  
Large volume – we arrange a pickup

Small volume – we provide pre-paid labels; you pack and send it to Summit 360 via ground shipping.
Step #3: We'll confirm your IT equipment's value
Once your equipment arrives, we audit and test everything to confirm whether it has value in the used equipment marketplace:  
If it's resellable, we'll buy it from you

If it's not resellable, we'll dispose of it responsibly and recycle the appropriate components  
Step #4: Receive your payment
We send you a check, or you can use your credit toward a future purchase. It's up to you.
Summit 360 makes it easy to sell your used IT equipment
Planning for managing each stage of your company's equipment lifecycle will always have challenges. That's why having a companywide plan for your used equipment is so important. 
When you trust Summit 360 with your used equipment, we'll handle the logistics for you. All you need to do is check this item off your to-do list and decide how to invest the proceeds.
If you have used gear collecting dust, let's chat. Our Buyback Program may be right for you.