If value recovery isn't part of your overall IT asset management strategy, it should be. Because even when IT assets reach their end of life, they retain some of their value. 
This means you can sell your assets on the secondary market as part of an IT asset disposition (ITAD) process. It also means that if you're holding onto equipment your company is no longer using, it's losing value.
In our nearly 30 years in this industry, we've seen countless customers forfeit some or all of their equipment's value by not planning. To maximize your IT asset recovery, follow these five simple tips:

Have an asset management plan for the entire life cycle

Know the signs it's time to retire your equipment

Keep all of your equipment intact and in good repair

Consider options beyond physical destruction

Partner with a certified ITAD vendor
 Let's take a closer look at each of these strategies.
Have an asset management plan for the full life cycle
Too often, the IT organization within a company is viewed only as a cost center. At Summit 360, our goal through ITAD value recovery is to help you turn your cost center into a profit center.
To accomplish this, we recommend having asset management in place for the full life cycle of your equipment. This can be as simple or complex as your business requires, but the end goal is to plan for how you'll acquire new equipment, how you'll decide when it's time to retire them, and how to dispose of your assets.   
We can help you create a new revenue stream from your used or end-of-life equipment through refurbishing and remarketing. And with a variety of resale channels and an understanding of fair market values, we're also able to help you maximize your asset recovery.
Know the signs that it's time to retire your equipment
Another challenge many customers face is deciding when to retire an asset. There are several signs to watch for that indicate it's time. In particular, you want to pay close attention to the tipping point of when an asset no longer meets your needs but still has value in the secondary market. You should also think about support and maintenance costs. As equipment ages, these costs increase so your total ownership cost goes up as well.    
If you're retiring relatively young equipment, an ITAD vendor can help you optimize the residual value of your assets with repair and refurbish services that prepare your equipment for reuse.
If you're retiring older equipment, this is where an experienced ITAD vendor can be tremendously helpful. They should have a deep understanding of which resale channels currently need the hardware you're retiring and the fair market value for your assets.
For many organizations, the ability to redeploy equipment internally offers significant cost savings. An ITAD vendor can help here as well.
They should be able to handle data erasure, repair (if needed), upgrades (if desired), and re-imaging. Then, the vendor can either bulk-ship your refurbished equipment to one of your locations or make individual pieces available online for internal orders. Either way, your equipment will be back in service to support your business needs.
Keep all of your equipment in good repair
Your equipment was expensive to purchase and served your organization well. So, even when you retire assets, it's essential to keep everything in good repair. If it becomes damaged, your opportunity to recover any value is lost. This is even true for hot and in-demand IT assets. Damage means loss of value. Period.
To keep your equipment in good shape:
Ensure your IT team understands the concept of asset recovery and doesn't treat retired equipment as "throwaway"

Have a designated space to handle, sort and inventory equipment 

Provide your team with packing materials and detailed instructions
Taking these few steps can make a significant difference in your IT asset recovery plans.
Keep your equipment intact
Maybe you've just downsized, cleaned out a storage space, or upgraded equipment for part of your organization. When you're not using equipment, it's easy to look at it as components rather than assets.
For maximum value recovery, we strongly recommend keeping all of your equipment 100% intact. And this includes all of its parts and peripherals. Intact equipment does two things: it holds its value and requires less of an investment for parts and labor during the refurbishing process.
Consider options beyond physical destruction
For years, companies felt that the safest option for wiping sensitive hard drive data was physically destroying the assets. However, once the equipment is destroyed, its value is gone, and you're left with potentially harmful e-waste.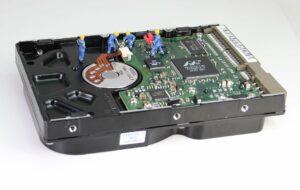 Another safe and viable option is to partner with an ITAD vendor to sanitize your data-carrying devices. The vendor should:
Have expertise in evolving data-security requirements and regulations 

Adhere to industry-wide best practices

Follow a consistent, detailed process to protect your company's sensitive data

Provide you with a critical audit trail should you need one
Under this method, your data carrying components are wiped clean but remain functional. That means you're in a position to recover some value from your IT assets.
Conversely, if you find yourself with equipment that has no end-of-life remaining, an ITAD vendor will responsibly dispose of it in a way that protects your security as well as our planet.
Partner with a certified ITAD vendor
At this point, we hope you're convinced that asset recovery should be top of mind when it comes to ITAD. Now, it's time to choose a vendor that can help you shift from simply offloading your used IT hardware to turning it into a new revenue stream.
Unfortunately, some ITAD vendors lack the experience and proven processes to ensure security and compliance during the refurbishing process. Other vendors lack the robust networks required to resell equipment for the highest ROI.
In addition, working with an ITAD partner is an investment. So, to offset the cost, you want an ITAD with a focus on IT asset recovery (and hopefully the opportunity for you to reinvest in your business). 
Start your search by looking for a certified ITAD partner. In particular, you should look for a vendor with the R2v3 certification, which is considered the latest industry standard.
An overview of the Summit 360 ITAD proven process
While it may sound daunting at first, value recovery can be an easy and painless process for recouping your IT investment.
For example, for a large volume of equipment, we will arrange a pickup; otherwise, we will have you send it via ground shipping, including all transportation costs taken care of by us.
Then, we test all of the network equipment. If the equipment cannot be resold, we will dispose of it responsibly and recycle the appropriate components according to The Recycling Industry Operating Standard™– the recycling industry's management system standard for quality, environment, and health & safety.
If the equipment can be sold, our buyback program helps you maximize the return on your IT investment. We offer top dollar for excess or obsolete servers, storage, and networking hardware.
Want to learn more about how we make ITAD value recovery a priority? Contact Us.