Minneapolis metro-area company becomes only 2nd company worldwide to secure the select R2v3 Certification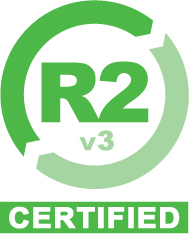 EAGAN, MN — August 3, 2021 — Summit 360, a technology refurbisher and IT Asset Disposition (ITAD) company, joins a global, select group as an early adopter of the R2v3 certification program: the comprehensive, voluntary industry standard for used IT hardware recyclers and resellers, managed by Sustainable Electronics Recycling International (SERI).
The certification of Summit 360's Lone Oak facility reflects the company's commitment to leadership in ITAD services with process innovations that strengthen data security and reduce risk for companies that seek to dispose of IT hardware responsibly.
"We're seeing a barrage of attacks on data around the world!" said Dick Noble, Founder and Owner of Summit 360. "I believe that the strengthened data security requirements in the R2v3 certification benefits all stakeholders: the end-user clients, vulnerable consumers and businesses and society at large."
The R2v3 certification requirements enhance all dimensions of ITAD operations, including downstream recycling chains, data sanitization, hardware testing and repair, materials recovery and even brokering. According to SERI, many organizations take upwards of eight months to complete the full compliance process.
"Certification to R2v3 goes beyond providing assurance that electronics will be securely and responsibly managed," said Sean De Vries, R2 Director at SERI. "R2v3 Certification also provides customers with additional information about the specific areas of expertise that have been certified at each facility. Summit 360's certification scope includes managing the downstream recycling chain, logical and physical data sanitization, and test & repair of equipment for reuse — all very important capabilities for supporting a circular economy for electronics."
The Recycling Industry Operating Standard™ (RIOS™) is also crucial to the company's commitments to best practices. RIOS addresses the safety of Summit 360's workforce, eliminates impacts on the environment, ensures high process and product quality and maintains compliance with all applicable laws and regulations.
"Becoming certified is a long and arduous journey, culminating in independent expert 3rd party verification of our processes," said Noble. "Being able to proudly display the R2v3 and RIOS™ logos will set us apart from our traditional competitors and, most importantly, will offer significant reassurance to our clients that their data is secure and their businesses are protected to the highest degree when they use us for their ITAD services. We hope our leadership will inspire others to raise the bar as well."
About Summit 360: Summit 360 is a technology refurbisher and ITAD service company with a 25-year reputation for exceeding customer expectations through incredible service and data security protocols. In addition to its national scale, as a local leader in both IT hardware and business excellence, Summit 360 is a proud member of the Minneapolis/St. Paul Business Journal's "Fast 50" and a five-year winner of Minnesota Business Magazine's "Top 100 Companies to Work For."