From age 10, Dick Noble knew he wanted to run a business. So, when the company he worked for early in his career started to struggle, he took that as a sign to go out on his own.
Dick and his friend Jim launched Summit Information Resources in 1992 from the dining room of Dick's duplex apartment. In the beginning, they sold used hardware from a company called Digital Equipment Company.
 They were busy enough to hire their first employee within just a few months. Soon after that, another employee joined. More followed as Dick and Jim went through the usual ups and downs of early entrepreneur life.
The company entered a period of solid growth after Dick implemented a business framework popularized by the book Traction. Now, as the company celebrates its 30th anniversary, more than 60 people are on the team, and Summit 360 launched a new line of business called IT asset disposition.  
What's made the Summit 360 team so successful? They'll tell you it comes down to a healthy dose of company pride and five key things.  
What's behind Summit 360's success? The team weighs in
Leadership
Dick discovered early on that he was better at running a business and hiring good people than he was at sales. So, he committed to getting the right people in the right seats and helping them do great work. This leadership tenet flows through the culture at Summit 360, where everyone is committed to assisting people in leveraging their strengths, learning new things, expanding their skills, and growing in their careers.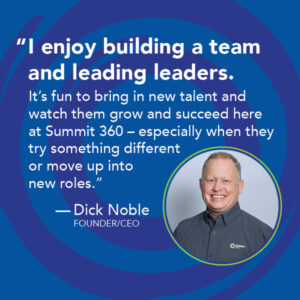 Strategy
If you choose the computer equipment industry, you better be ready to evolve and change over time. And Summit 360 has. Over the last 30 years, Dick and his leadership team have been early to spot marketplace opportunities, including fiber optics products, third-party maintenance, offering a lifetime warranty, and more. If it's happening within the equipment marketplace, Summit 360 is right there with it (or ahead of the game, like they were in their new ITAD business).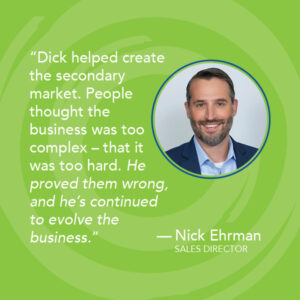 Product
Over the last three decades, Summit 360 has built a strong network of vendors and partners making it easier for us to source hard-to-find equipment. It's our core business and what we're best known for. But refurbished IT equipment is only part of what we do. 
Today, we specialize in the entire IT life cycle and helping IT leaders maximize the return on their technology investment – whether that's procurement, maintenance or disposal. Our hybrid approach blends premium refurbished IT equipment with top tier OEM partnerships and strategic service capabilities.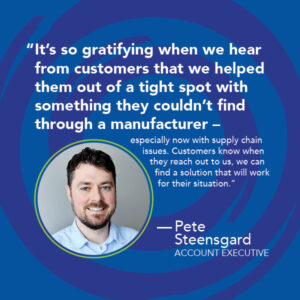 Culture
Dick set out to create an excellent place for his employees. And when you consider that the second person he hired is still with the company 30 years later, it's safe to say he accomplished his goal. Employees describe the Summit 360 culture as warm and genuine and say it's a place where people enjoy their work, want to help others succeed, and are dedicated to the customer.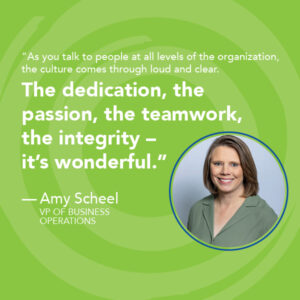 Customers
From the beginning, Dick wanted Summit to be easy to do business with. As a result, everyone on the Summit 360 team has a customer focus, wants to make customers' lives easier, and understands the value of building long-term relationships.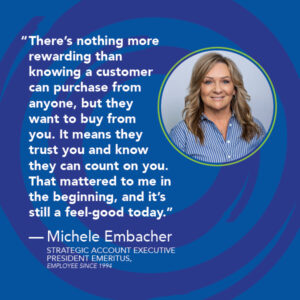 Looking ahead: what's next for Summit 360
Not one to rest on his laurels, Dick decided to take on a new challenge right before the 30-year milestone. In 2021, Summit 360 became one of the first companies nationwide to receive the R2v3 certification for IT asset disposition (ITAD). In this new practice area, Summit 360 reduces the risk for companies that want to dispose of their IT hardware responsibly while returning value to them for their retired IT equipment.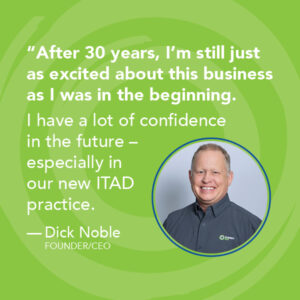 ---