Even in the best vendor partnerships, it's a good practice to occasionally re-evaluate – especially when your company's reputation is on the line. Because when it comes to managing IT asset disposition (ITAD) for your business, that's precisely what's at stake. Far beyond compliance to regulations and protecting data and the environment — your reputation is your most at-risk asset.
As part of your ongoing due diligence, you want to assess your ITAD vendor's performance regularly. This will help ensure you're mitigating every possible risk to your company across the ITAD process:
Securely wiping your assets of data

Testing, repairing and reselling assets that still have value

Recycling assets responsibly when they're at the end of their usable life

Reporting audit trail
Reasons to consider switching ITAD vendors
If you discover that your ITAD vendor is not performing well in one or more areas, pay close attention. There are certain instances where you may be introducing an element of risk to your company rather than mitigating it.
To help you determine whether you're in that situation, here are seven reasons to consider switching ITAD vendors.  
Reason #1 – Their data-security processes are lacking or lagging the industry
Data security will always be first and foremost. Ensure they're using industry-standard practices to wipe your data carrying assets or to destroy your physical assets if they're being recycled. This includes having a secure facility with strict chain of custody protocols and tracking. And it includes their use of industry-leading software to properly erase data from the huge variety of assets you may send, with current updates to handle the latest in storage technologies, and extensive logging of each asset erased.
All of these steps directly link to your brand's reputation. Anything less than complete confidence in your ITAD vendor's process is a reason to switch vendors.
Reason #2 – They're not well-connected enough to get top dollar for your IT assets in the secondary market
This is an area where many people begin thinking about switching ITAD vendors. But value recovery should always be secondary to data security.
Some ITAD vendors sell assets wholesale, while others use a straight purchase model. In the wholesale model, assets can be sold and then resold again. Along the way, each vendor takes a portion of the margin. Ideally, you want an ITAD vendor with established end-user relationships and direct paths to the end-user markets that can offer you a higher value recovery.
Reason #3 – They don't have strong downstream recycling protocols in place
If your equipment is at the end of its usable life, and can't go into the secondary market, then your next risk to evaluate is the vendor's downstream recycling practices.
If a piece of your equipment is improperly disposed of, and it has your company's asset tag on it, you're likely facing fines at a minimum. Not to mention brand damage. (We've all seen enough news stories about big brand names to know that this can and does happen.)
Recycling mistakes are rarely made intentionally. Instead, it's a matter of vendors not having appropriate controls in place. Regardless of how it happens, your company will be on the hook for cleanup and will likely also be fined. If your vendor doesn't provide specific sustainability and downstream audit protocols as well as full transparency of the downstream recycling chain, that's another indication it might be time to transition ITAD vendors.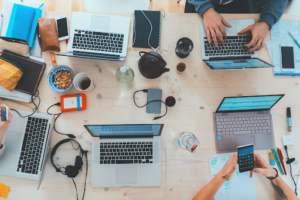 Reason #4 – They don't provide complete and accurate audit trail reporting
ITAD reports are your audit trail. Your proof that you took all the right steps to dispose of your assets responsibly. Always look closely at what you receive from your vendor and compare it to your internal data. Then, ask yourself whether you'd feel confident sharing the vendor's report with an auditor.
Lack of report integrity can be a sign that a vendor's processes or systems also lack integrity.  And don't just trust that the reports are accurate — verify it!  Also, take a close look at the strength of the vendor's ERP system – is it a development platform that provides resiliency and integrity throughout the whole process?
If your vendor is providing incomplete reports or reports that don't meet all of your needs, that's a sign it may be time to change ITAD vendors.
Reason #5 – They don't offer ITAD-related services you consistently need
If you consistently need ITAD-related services that your vendor doesn't offer, it's probably time to think about transitioning to a new ITAD vendor. These services may include:
Packing and shipping services

White glove decommissioning services

Recording serials numbers before equipment leaves your facility

Erasing all of your hard drives on-site if that's something you prefer or is required

Repurposing equipment and re-deploying it back within your company

Managing lease return services and logistics (e.g., helping you determine when equipment has more value than what the lease buy-out would cost you)

Managing donations to nonprofits
While not core ITAD services, having one vendor manage all of these related tasks makes for a smoother overall experience and seamless reporting.
Reason #6 – They're not investing in their growth or moving the industry forward   
Consider whether your vendor is raising the bar within the ITAD industry. Maybe they're involved with advocacy or mentoring other companies. Perhaps they're active in UNEDA or ISRI. Or, they've adopted EOS®, the Entrepreneurial Operating System, and made it part of their company culture. All of these add value to the ITAD vendor that they can pass along to you. If your current vendor isn't involved in the broader industry, you may want to consider switching to a new ITAD vendor.   
Reason #7 – They're not providing you with an outstanding level of service    
You want an ITAD vendor that thinks beyond the transaction and wants to build a long-term relationship with you. A vendor that's built a culture around serving the customer and all of their employees are bought in. A vendor who measures themselves against your expectations, rather than what it takes to get by.  Anything less, and it's time to transition to a new ITAD vendor.
It's time to switch your ITAD vendor – now what?
If you've decided your current vendor is not mitigating enough risk, then the question becomes: How do I make the switch to a new ITAD vendor? The answer depends on how integrated the partner is with your business:
If the vendor is more transactional and less integrated, you could choose a switch date and transition to a new ITAD vendor all at once.

If the vendor is highly integrated, an all-at-once switch may not be possible. In these cases, you may want to do a pilot for one type of equipment. Or split off a portion of your IT assets and try a new vendor with just that portion.
Also consider the advantages of a long term contract to ensure alignment of the services without worrying about vendor issues from month to month.
Want more information about switching IT vendors? Contact us today.